2023.06.09 Event & FeatureGodzilla interception operationNews
Anime Theme Park Nijigen no Mori Limited-time Event "Awaji GODZILLA Festival" Starts June 10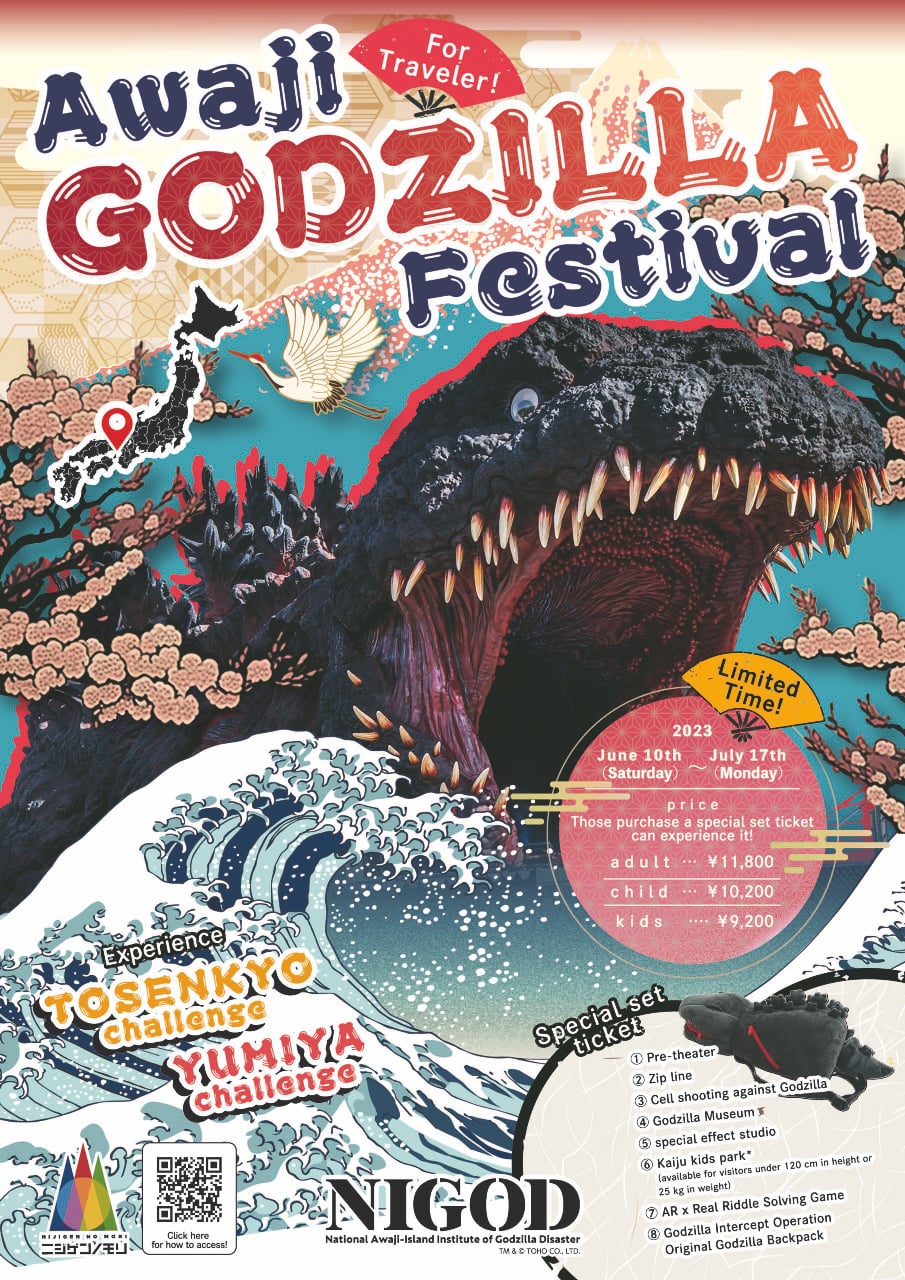 Anime Theme Park Nijigen no Mori Limited-time Event "Awaji GODZILLA Festival"
Starts June 10
Awaji GODZILLA Festival
During the Awaji GODZILLA Festival event period, visitors who purchase a 'Special Set Ticket' will be able to enjoy two exciting games, including an original Japanese 'Archery Challenge' that recreates the Godzilla Interception Operation Awaji mission, and the 'Tosenkyo Challenge', a traditional Japanese fan-tossing game.
Visitors who join in the games will have the chance to win popular merchandise, making the event a must for Godzilla fanatics.
Event details
Dates
Saturday, June 10, 2023 – Monday, July 17, 2023
Details
Visitors who purchase Special Set Tickets.
Ticket Exclusivities
Admission ticket, AR riddle solving kit, an original Godzilla backpack and unlimited zip line access.
Game details
(1) Archery Challenge
A game in which participants wear a traditional Japanese warrior helmet and aim for their target with a bow and arrow, in a recreation of the Godzilla Interception Operation Awaji mission.
(2) Tosenkyo Challenge
A traditional Japanese game in which participants aim a traditional hand fan at the target.
Pricing
Adults (12 and over) 11,800 yen
Children (over 120cm and 25kg) 10,200 yen
Children (under 120cm and 25kg) 9,700 yen
*Tax included in above prices
Novelties
An original Godzilla backpack is included with all Special Set Ticket purchases.
▲A Godzilla backpack that can't be found elsewhere.
About Godzilla Interception Operation Awaji
Godzilla Interception Operation Awaji is the world's only entertainment attraction in which visitors can experience the full power of Godzilla, with the world's largest life-size Godzilla, spanning 120m in length, landed on Awaji Island. -Island Institute of Godzilla Disaster (NIGOD) and take on missions such as a 'zip line' to plunge into Godzilla's body for inspection, and a 'shooting game' to destroy scattered Godzilla cells.
A range of original merchandise from the National Awaji-Island Institute of Godzilla Disaster (NIGOD) can also be found in the attraction, in addition to a Godzilla themed menu featuring dishes that will fully immerse visitors in the world of Operation Godzilla Interception Awaji.